Introduction
The City of Minneapolis Street Lighting Policy provides a framework for how and where the City of Minneapolis will construct, operate, and maintain public street lighting. The Street Lighting Policy has several key objectives:
Maximizing the quality, sustainability, and visibility of the street lighting system.
Contributing to added comfort and safety for pedestrians, bicyclist, transit users, and motorists.
Creating a consistent and cohesive lighting system based in place-type characteristics throughout the City of Minneapolis.
Providing pole and fixture options that are aesthetically pleasing and high quality.
Providing clear guidance on expected installation methods, procedures and maintenance service levels.
Creating a system that is cost-efficient, easy to operate, and maintainable.
Addressing participation and implications for the capital, maintenance, and operational costs.
See the Street Lighting Policy document for additional details.
Figure 3.3G.1:
Streetlight design considerations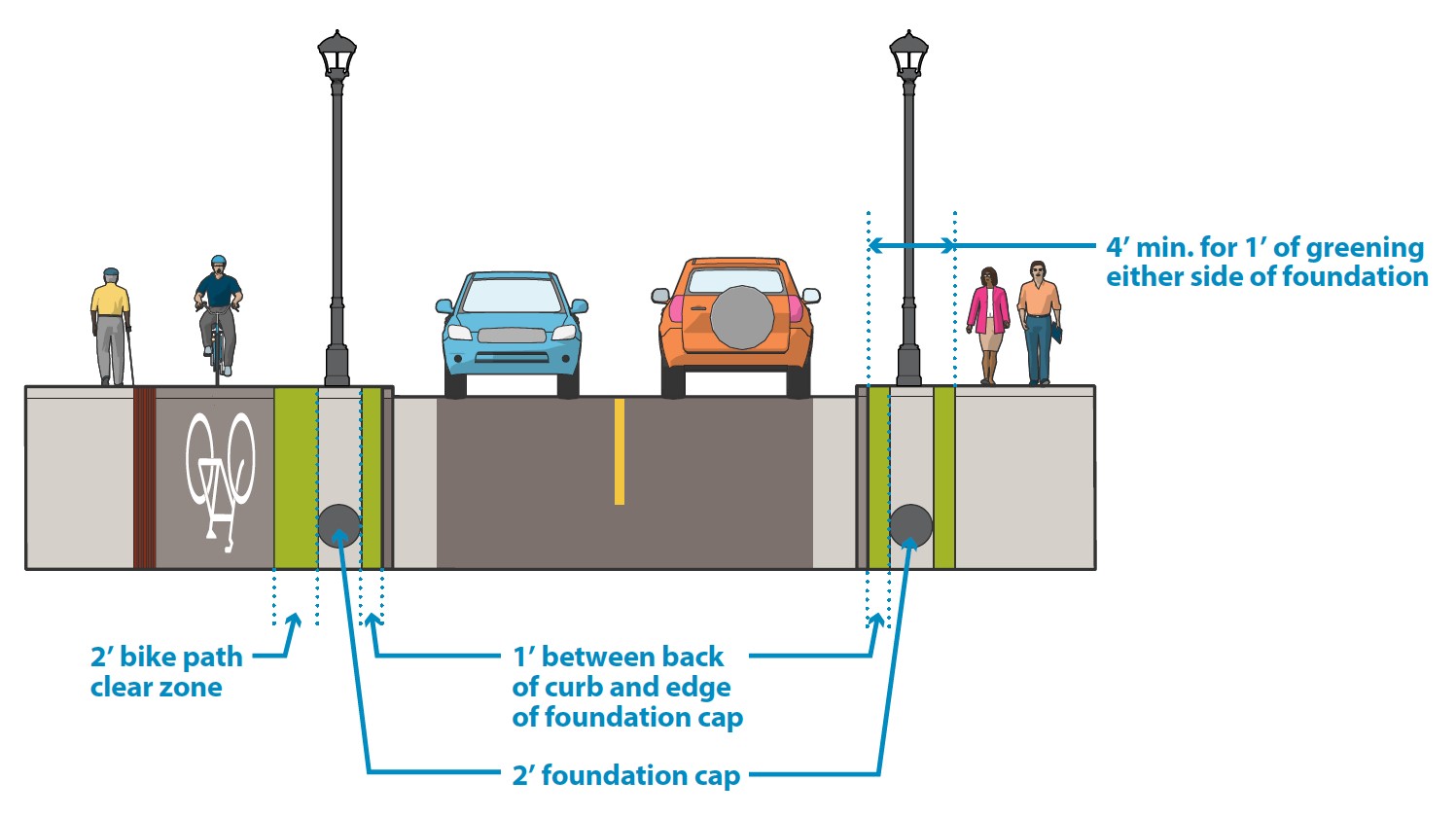 Design Considerations
| | |
| --- | --- |
| Pedestrian scale lighting | Pedestrian lighting should be used on all street reconstruction projects included as part of the capital project cost. |
| Spacing | Streetlight spacing will vary by designated street lighting areas. Please see the Street Lighting Policy document for additional details. |
| Size | Streetlights are 2' in diameter and require 1' of space between the back of curb and edge of the streetlight foundation. More details are in the standard plate. |
| Location | Streetlights should generally be located between the roadway and the sidewalk. |
| Bikeway clearance | When adjacent to a bikeway, there should generally be a minimum clearance of 2' between the streetlight foundation and the bikeway. In constrained environments or stop conditions, designers can consider narrower clearance. |
| Adjacent sidewalk width | When the streetlight is placed adjacent to the sidewalk, see sidewalk zone design guidance for recommended pedestrian clear zone widths by street type. |
| Adjacent planted boulevard | Streetlights should be surrounded with planted boulevard whenever possible. When the streetlight is placed in a planted boulevard, the boulevard should be at least 4' wide to provide at least 1' of space for plantings on either side of the streetlight foundation. |
---